FRANKIE AND THE WITCH FINGERS
Wurlitzer Ballroom, Madrid.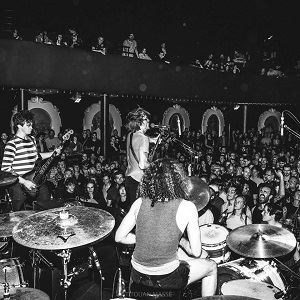 Los menores de 16 años deben asistir acompañados de un adulto
Más información sobre las entradas para FRANKIE AND THE WITCH FINGERS
Frankie and The Witch Fingers
+ Banda invitada
Sábado 18 de julio – Madrid @ Wurlitzer Ballroom
22.00 * 13€ + gastos anticipada / 16€ taquilla
Frankie and The Witch Fingers ha pasado de ser la mayor promesa rock garage lo-fi de Los Ángeles, California, a ser ya toda una realidad, como demostraron ya en España en la memorable actuación en Tomavistas. Dylan Sizemore (vocalista y guitarrista) lidera esta banda que con sus reverberaciones, el brillo de sus guitarras y la ondulación de sus canciones transporta a la psicodelia de los 60 y los 70. Hasta el momento, «Sidewalk" y «Brian Telehone» (2017) y el más reciente «Zam» han sido su álbumes más aclamados y los que han conseguido ponerles en boca de todo el mundo, aunque anteriormente publicaron "Heavy Roller" (2016) y su debut "Frankie and the Witch Fingers" (2015). Su último álbum, "Zam" no ha decepcepcionado a la crítica y está cosechando críticas brutales.